Go back
Events
L'Étape Cyprus by Tour de France – your ultimate guide
1. Overview of L'Étape Cyprus
The L'Étape series by Tour de France is a world-famous amateur cycling series of sportive events. They offer a unique opportunity for cyclists to discover the best cycling routes under similar conditions to the professional riders of the Tour de France: a challenging, ASO-accredited route, closed roads and cheering spectators.
The inaugural L'Étape Cyprus by Tour de France will take place on Sunday, 13th November 2022.
L'Étape cycling Routes
Cyclists will be able to choose between two distances: the full ride of 136 kilometers with more than 3,000 meters of elevation gain, or the short ride of 62 kilometers and a total of 1,300 meters of elevation gain.
The events will take place on closed roads (there will be rolling traffic closure).
We're really excited about the routes we'll be offering. From Aphrodite's Birthplace to Mt Olympus, these are courses filled with history, tradition, and breath-taking scenery. More on that below!
Map of L'Etape Cyprus (racecourse). Find a larger map, the profile, and more info below.
Map of L'Etape Cyprus (ride course). Find a larger map, the profile, and more info below.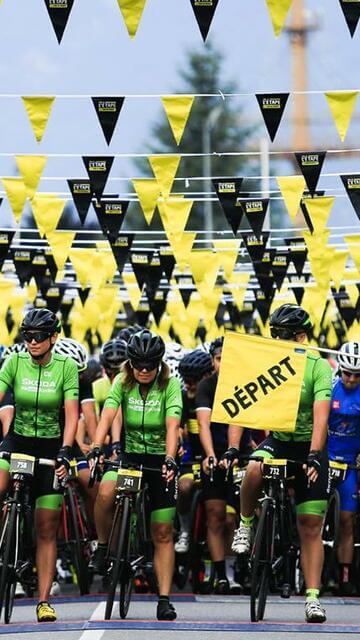 Weekend event
This event will commence on Saturday 12th November 2022 with a day filled with French food, appearances from cycling legends, and family cycling fun.
The L'Étape Cyprus cycling event will follow on Sunday 13th November.
Visitors will have the opportunity to experience the traveling Tour de France Museum, which maps the history of the legendary yellow jersey through the emblematic places of this world-renowned bicycle race. The public will have an opportunity to learn about the Tour and trace its story from the conception of the event to the present day.
In cooperation with the French Embassy in Nicosia, as well as the French Institute, there will also be a series of cultural events such as wine tasting, music concerts, and kids' entertainment, providing a taste of the rich French culture
Prizes
Although we encourage all participants to enter and enjoy a great and safe cycling event, this is a timed race (we couldn't simulate the authentic Tour de France atmosphere without that part!).
All finishers of this fully supported ride will receive a participation medal, official race t-shirt, entertainment, photos and more.
At the end of the race on Sunday 13th November there will be an awards ceremony to present trophies and jerseys to the first three female and male winners of the overall category. There will also be awards such as King and Queen of the Mountain (for the best overall climbing times). Trophies will also be awarded to female and male winners of age group categories as well as to a special Cyprus Cycling Federation championship category.
A L'Étape Cyprus perpetual trophy will be presented to the Cyprus Sports Organisation.
Credit: A.S.O. Aurelien Vialette
2. Why is it special to be part of the Étape series?
L'Étape by Tour de France is a legendary series of world-class events. The best-known event is L'Étape du Tour which repeats the annual "queen stage" of the Tour de France.
The L'Étape series continues the fame of L'Étape du Tour and brings the concept of L'Étape to countries around the world.
What it means for riders
Taking part in our event will offer participants a unique opportunity to be part of the new L'Étape reward scheme. L'Étape reward is designed to offer participants at L'Etape Series events a special chance to get a place for L'Étape du Tour de France that is held each year in July: all cyclists registered to L'Étape Cyprus will be offered an exclusivity period to register for L'Étape du Tour de France. The places will be allocated on a first-come-first-served basis.
This year entries for L'Éape du Tour de France sold out in less than 24 hours. So if you ever wanted to take part in L'Éape du Tour de France but couldn't get a place, taking part in our event may help!
What it means for us
Hosting a L'Étape by Le Tour de France event in Cyprus will highlight our world-class cycling routes, iconic landmarks, and distinctive scenery. It is very special for us as it means more than being just another cycling race or gran Fondo in Cyprus; it allows us to showcase great route options suiting all kinds of riders through some amazing landscapes.
With cycling currently booming on the island, we hope that the event will offer the ultimate challenge for all local riders and may even pave the way for the future participation of a Cyprian rider in the professional Tour de France.
Credit: A.S.O. Aurelien Vialette
3. Why did you set up the event?
We are keen to raise Cyprus' profile as an outstanding cycling destination. We think it's got everything it's favorite cousins have got (the Mallorcas, Gran Canarias, and Portugals of this world) - and more.
We think Cyprus deserves recognition and would like to use L'Étape Cyprus to get Cyprus better known by the cycling world.
We also want to involve the local cycling community with cycling in Cyprus, develop youth programs, and showcase some of the island's hidden treasures, such as its rural identity and generous hospitality ethos.
4. Explain the profile of each route
The Étape bike race
Distance: 137 kilometers
Elevation Gain: 3,176 metres
Max Grade: 15.1 %
The Étape cycle race starts from Aphrodite Hills Resort. This is the longer route option offered in 2022, which takes you southwest along the B6 on a route that runs along the coast, goes past the Oreites Forest, to Kato Platres, and then towards Mt Olympus.
From here, this route turns downhill to Pissouri Village and returns to the Resort on the same B6, via Aphrodite's mythical birthplace 'Petra tou Romiou', an interesting geological formation of huge rocks, along one of the most beautiful coastlines on the island.
What makes the course special is the successive change of landscapes: from pine forest to Cyprus' first wind farm, rich wine valleys of the Krasochoria, cool, pine-scented air, lonely monasteries, and of course, the monumental peak of the island and a hors catégorie cycling climb, Mt Olympus.
Aphrodite's rock in Paphos, Cyprus
The Étape bike ride
Distance: 62 kilometers
Elevation Gain: 1,300 metres
Max Grade: 10 %
The Étape bike ride starts from Aphrodite Hills Resort. This shorter option for 2022 features a ride that takes you southwest along the B6 on a route that hugs the coast, goes past the Palaipaphos Archaeological Site, to Oreites Forest (which used to be the most important source of wood for the Kouklia medieval sugar industry) and then to Dora village.
From here, this route turns downhill to Pissouri Village and returns to the Resort on the same B6 via Aphrodite's mythical birthplace 'Petra tou Romiou'. Riders will experience a taste of the Commandaria, the world's oldest named wine still in production, villages, quiet roads, wild horse estates, and breathtaking scenery.
Wine route in the Troodos mountains, Cyprus
5. What are the highlights?
The three stand-out highlights for me of our Étape cycling routes are:
Mount Olympus
Without a doubt, the island's 'queen stage', is the remarkable ride to Mount Olympus (which is part of the Race course).
Starting at Mandria, the climb is almost entirely uphill but there is never a dull moment as you progress up from the foothills, through vineyards, olive groves, and Byzantine churches to the forests of the high mountains. The stunning sweeping roads offer breath-taking views of the Mediterranean. It is hard to describe how quiet and peaceful these roads are, as you climb through the small, remote villages that have been lost in time.
Pano Platres in Troodos mountains, Cyprus
Krasochoria
A special mention has to be made for the part of the Race and Ride routes that pass through 'Krasochoria', a collection of villages that tell the story of rich winemaking history. Krasochoria is comprised of the two Greek words for 'wine' and 'villages.
Located on the southern slopes of the Troodos Mountain range, nowhere else in Cyprus can such a great presence of wineries be found. Pick your lowest gear and enjoy climbs through one of the most traditional viniculture areas. It also has unique geology of international interest as it comprises an ophiolite cluster dating 90 million years, 8,000 meters below sea level.
Mediterranean views
On the return to the finish, both the Race and Ride courses offer up spectacular views of the bluest Mediterranean waters. You also pass Petra Tou Romiou, also known as Aphrodite's birthplace, which greets the riders for the last time before the end of the ride.
Let this scenery of mythical beauty inspire you as you conquer the last uphill climb to the finish line for a well-deserved, celebratory beer!
Petra tou Romiou, aka Aphrodite's rock in Paphos, Cyprus
6. How fit do you have to be to do each route? What training and preparation do you recommend?
L'Étape Cyprus by Tour de France is a demanding race that requires serious preparation to reach the finish line.
Whether your goal is to reach the finish line in under five hours or aim to simply avoid the cut-off times, one thing is for sure: you must train, be properly equipped and hydrate yourself properly.
We recommend that participants focus their training on speed, strength, and power sessions while they structure a training plan to include basic, as well as long intensity sessions with special time dedicated to elevation gains.
7. Are there cut-offs?
Yes, there are. These will be advertised in the event race manual and uploaded to the official website.
We will aim for cut-off times that can be met by amateur riders of all abilities.
The time cut-offs are necessary to allow the road closures to be organized. These cut-offs are based on split times defined for each village included in the course. The times are negotiated with the prefectures of each location and the relevant Traffic Police Department.
Unfortunately, we have to be strict about enforcing these times and asking those that have not met them to leave the event. This is because we are committed to ensuring an event with complete and continuous traffic closures.
Credit: A.S.O. Aurelien Vialette
8. Will there be feed stations?
For L'Étape Cyprus "The Race" distance there will be five feed stations. The one at Troodos Square, just after Mount Olympus, will be a hot feed station offering warm liquids and meals.
For L'Étape Cyprus "The Ride" distance there will be three feed stations that will include water, soft beverages, and energy drinks as well as carb and calorie-rich foods such as fruit, nuts, and local delicatessen.
The stations are designed as stops where riders get off (rather than Tour de France style where riders are handed food as they cycle).
9. What kit choices do you recommend?
L'Étape Cyprus by Tour de France will take place on 13th November 2022. While November in Cyprus offers perfect riding weather conditions, participants should take elevation gain into consideration when packing their bags and bikes for the event. In other words, while temperatures at the start line are likely to average between 23-24 degrees Celsius, once at the feed station at Troodos Square (after Mount Olympus), temperatures will not exceed 12 degrees.
We advise participants to add a jacket to their race gear.
During November in Cyprus, the sun rises around 06:00 a.m. and sets around 16:30 p.m. This means bike lights, although welcome, are not necessary.
As previously mentioned L'Étape Cyprus features a mountainous course so a 32 or a 34 cassette will make climbing less of a struggle.
10. What support is there on the L'Étape cycling routes?
Our goal as a L'Étape by Tour de France event is to provide similar conditions to those experienced by the professional peloton and its legendary riders on France's roads since 1903. For this reason, participants will receive mechanical support, nutrition stops, and first aid assistance in L'Étape Cyprus.
There is information on food stops above.
There will be two mobile mechanical crews (one for The Ride and one for The Race). These teams will provide assistance with basic problems that participants experience with their wheels, tires, and chains.
There will also be three fully equipped ambulances, a medical station at the resort, and paramedics in each feed station.
Feed station at the 2019 Etape du Tour (Albertville – Val Thorens) (credit: A.S.O. Aurelien Viale
11. Where should people stay?
The event HQ and athletes village for L'Étape Cyprus will be in the renowned Aphrodite Hills Resort, the first and only comprehensive golf, leisure, and real estate development in Cyprus.
Participants who choose not to stay in the Resort can pick either Paphos or Limassol regions to seek the right accommodation format for their needs. There's everything from luxury beach hotels and chic city living breaks, to holiday villages, and authentic family-run establishments that are worlds apart from tourist hotspots. Paphos and Limassol feature the widest range of quality accommodations that should satisfy everyone's requirements.
It's quite easy to get from Paphos and Limassol to Aphrodite Hills Resort by car; Paphos is just 20 minutes drive and Limassol around 30 minutes' drive.
12. Can people hire bikes?
During the last three years, demand for bike hire has grown in Cyprus and as a result there are many bike rental businesses around the island.
Our official bike hire supplier for L'Étape Cyprus by Tour de France is Aspire Cycling. Pre booking is required, and we advise participants who wish to hire a bike to secure their booking as early as possible. For a complete list of bike hire stations on the island, please check this page.
Finishers' delight at Etape du Tour 2019 (credit: A.S.O. Aurelien Vialette)
13. How should cyclists get to L'Étape Cyprus?
Airports
Cyprus is served by international airlines that fly direct to both Paphos International (PFO) and Larnaca International (LCA) airports from around the world. Paphos Airport is located 20 minutes from the host venue of Aphrodite Hills while Larnaca airport is based an hour's drive away.
Car hire or taxi
Once at the airport of their choice, participants have the option to hire a car or get a taxi.
Car hire in Cyprus during the off-season is an easy, reliable, and highly recommended travel way that allows visitors to have the island's treasures within easy reach. It also gives peace of mind if you are bringing your own bike.
Bike transfers
Bike transfer is also available via taxi service which has significantly improved and recently adjusted to include vehicles with dedicated bike space (more info here).
14. What is there to do before/after the event?
L'Étape Cyprus by Tour de France is an event open to cyclists of all skill levels who are seeking a unique experience in an exciting Mediterranean setting.
With an average of 326 days of sunshine per year and infamously mild winters, Cyprus is a great year-around holiday destination and perfect whether you're looking for a bike trip or something less energetic!
In addition to the weather conditions, the whole Paphos region is a UNESCO World Heritage Site. Here you can see the history that starts from the Stone Age, through to classical Hellenistic and Roman times, and ultimately the glory of the Byzantine era.
Some of the places we love to take guests to in Cyprus include:
Kato Paphos Archaeological Park, is an ancient city that contains sites and monuments that date from prehistoric times through the Middle Ages. Among the most significant remains so far discovered are four large and elaborate Roman villas (the House of Dionysos, the House of Aion, the House of Theseus and the House of Orpheus) all with superbly preserved mosaic floors. In addition, excavations have uncovered an agora (market), asklipieion (hospital), basilica (church), odeion (conservatory), a Hellenistic-Roman theatre, and a necropolis (cemetery) known as the "Tombs of the Kings"
Diarizos Valley Wine Route - this route takes you along the Diarizos River, through beautifully unspoiled green landscapes dotted with picturesque vineyards. This is where the lesser-known wine-producing region of the Diarizos Valley is found, east of Paphos. The route passes 14 hilly villages, with an opportunity to visit just two wineries that are placing the area firmly on the island's wine-producing map.
Krasochoria of Lemesos (Limassol) Wine Route - the Limassol winemaking villages are renowned for their history of viticulture, their excellent wine, and stunning scenery. Located on the southern slopes of the Troodos Mountain range, the route has a dry climate and unique geology. 20 charming, unspoiled villages, with 16 wineries, comprise this route. You'll find traditional architecture, cobblestoned narrow passages, and some of the best-known tavernas on the island.
The raw beauty of the Akamas Peninsula and National Park, spanning over 230 square meters, features remote sandy beaches, deep valleys and gorges, and a stunning coastline.
Tombs of the Kings in Cyprus
15. What tips would you give to someone wanting to do this event?
Stop thinking about it and just sign up! Taking the mental step of committing to a L'Étape by Tour de France event will help you identify and get over most of the barriers that might be stopping you.
Although it may look like a big challenge, by fixing goals and setting milestones, life becomes simpler.
Of course, no mindset strategy alone is enough to get you through the finish line. Make sure to include more palpable targets like physical training and quality nutrition plans.
A final note - make sure your bike (as well as your body!) is in top shape before you arrive in Cyprus for the event. After all that training, you don't want your bike breaking down on you or a situation where you have to find last minute bike repairs.
16. How do you enter? How much does it cost?
You can enter the event via our website.
Registrations for the inaugural L'Étape Cyprus by Tour de France open to the public on 1st December 2021.
Early bird prices will be available until the 1st of January 2022, while three more price tiers will follow until the closing of registrations in October 2022.
First rate entry fees will be available until the 1st of April, followed by sprint rate fees until the 1st of October.
Registrations will conclude with the final rate price tier applied a month before the start of the inaugural L'Étape Cyprus by Tour de France.
Rest assured, the earlier you book, the less you'll pay!
Your L'Étape Cyprus registration package includes:
a timed route that's closed to traffic
feeding stations
mechanical assistance
a welcome bag
shuttle transfers on the race/ride day
finisher medal
finisher beer (one!)
an after-party dinner
Cancellation and transfer policies are available at cyprus.letabebytourdefrance.com
Posted on 13 Feb 2022 at 11h13